Purchase Our X-Large Pizza With Two Toppings Or More & Get A Free 10″ Pizza!
Authentic Italian Pizza Restaurant in Chatham, VA
Established in 2000, Frank's Pizza is the local pizzeria that Chatham, Weal, Shockoe, and Hollywood, VA residents visit when they're craving an authentic Italian pizza shop! We provide a full menu of delicious Italian options, including handmade pizza and pasta, as well as steak, seafood, sandwiches, subs, wings, ribs, salads, soups and more! Order takeout or dine in to experience a little corner of Italy right here in Virginia!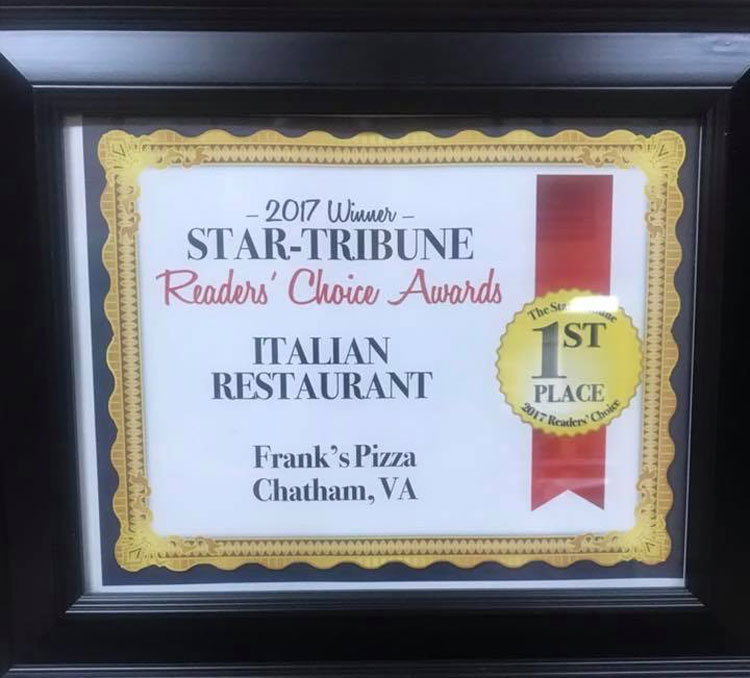 A Traditional Italian, Family-Friendly Restaurant
There are plenty of places to get Italian food when you're craving pizza or pasta… but are you getting true Italian food? When the craving for pizza or pasta strikes you, come to Frank's Pizza. Not only do we have a menu full of Italian favorites, we're an authentic, traditional Italian, kid-friendly restaurant! We bring you classic dishes that are made using only the freshest ingredients and old-world recipes. We're proud to be an authentic Italian pizzeria in Chatham, VA!
We can trace our heritage directly back to Naples, Italy—we're owned and operated by second-generation immigrants who have a deep and abiding love for old-world Italian cuisine. Today, we run Frank's Pizza as a family business, paying homage to the delicious flavors and dishes that we grew up with. Everything on our menu is authentic—right down to the sauces and dressings we make by hand at our restaurant. Whether you're ordering one of our delicious pizza or craving something heartier, like our sweet potato and ribeye combo, you're getting a meal that's cooked right—infused with authentic flavor you won't find anywhere else in Chatham, VA.
Stop in and dine as a family at our authentic, traditional Italian ingredient food restaurant or bring your first date to our authentic Italian pizzeria. We promise a great meal that everyone will enjoy! Or, if you don't have time to dine with us, place a carry-out order and we'll make sure your food is made fresh, hot and ready for you when you stop in to pick it up. Delicious food isn't the only traditional thing we bring to our customers—we also treat you like friends and family.
We're owned and operated by second-generation immigrants from Naples, Italy.
Our business is family-owned and -operated, with traditional values.
We only use fresh ingredients and authentic Italian recipes for homemade goodness!
We've recently renovated and are proud of our well-stocked bar and dining area.
Our employees are all ServSafe Certified and mindful of any allergies you may have.
Buon Appetito!
Whether you're craving pizza and pasta or prefer sandwiches and wings, Frank's Pizza has a menu that's sure to leave you satisfied. Stop in for dine-in or carry out and enjoy a meal from us!
Contact Us Order Now
A proudly Italian pizza restaurant serving the following areas:
Chatham, VA
Dry Fork, VA
Gretna, VA
Danville, VA
Weal, VA
Java, VA
Hollywood, VA
Shockoe, VA
and Surrounding Areas